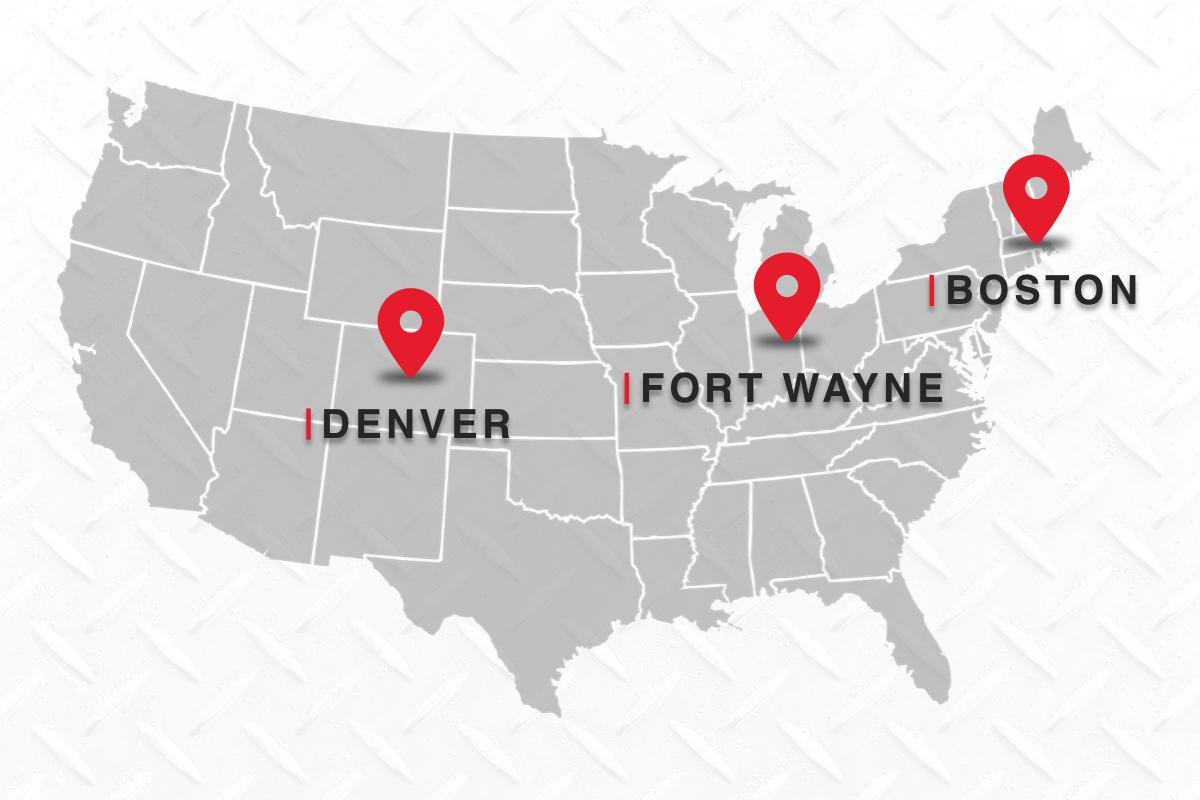 The R&R Family of Companies Adds Three New Offices
2023-08-04 10:23 AM
---
Within the R&R Family of Companies, we are dedicated to meeting the evolving needs of our customers. As a trusted logistics provider within our company, R&R Express Logistics continues to invest in infrastructure and resources to offer solutions that optimize supply chains for our customers. Part of this investment includes the expansion of R&R Express Logistics offices to three geographically favorable locations to better serve customers in those areas — Boston, Denver and Fort Wayne.
Keep reading to learn more about the expansion of R&R Express Logistics.
Expanding Operations from Pittsburgh
R&R Express Logistics is headquartered in Pittsburgh, Pennsylvania, where they have carefully crafted a team of expert logistics professionals. The company's logistics office in Pittsburgh has been responsible for moving hundreds of thousands of loads — while continuously innovating and adding valuable sales representatives to the team. R&R Express Logistics is proud of the growth that started in Pittsburgh. The hard work of all of our employees has given us the opportunity to expand across the country and beyond.
These new offices give the company the capacity necessary to accommodate its rapidly growing team, resulting in local economic stimulation through job creation. By investing in its workforce and fostering talent, R&R Express Logistics aims to bolster its capabilities to provide solutions to its customers.
The expansion to Quincy, Massachusetts establishes a dedicated office in the New England region for R&R Express Logistics, which enables the company to support the large presence of government services, health and equipment manufacturers in the region.
Expansion to Denver, Colorado is part of the partnership with LTR, a large asset-based brand that's part of the R&R Express Family of Companies. The company wanted to diversify its model with a strong asset presence in a key western location.
With the Boston office expanding service to the New England region and the Denver office expanding service to the West, R&R Express Logistics needed to establish a greater presence in the heart of the Midwest. The new office in Fort Wayne, Indiana gives them the opportunity to better serve customers in America's industrial heartland who have relied on manufacturing as a significant source of their economy's well-being for over a century.
Building Trust & Confidence
The addition of these three office locations with experienced team leaders at the helm bolsters our service network and allows us to stay true to who we are — a freight and logistics company that promises personalized, dedicated service. Building confidence with customers and partners is about trust. We look to build that same trust that started in Pittsburgh.
As a company, we take responsibility for finding potential in the people we hire. We adapt to the needs of each individual to help the growth of the company itself, but also the growth of each individual. We pride ourselves in preparing for the good times by building and growing in the bad times.
Are you looking to join a talented and growing sales team with new opportunities in key markets? Explore the possibilities with the R&R Express Family of Companies.
If you're looking for a freight and logistics partner with a local presence and North American coverage, talk to us about your shipping needs today!

R&R Express Logistics - Denver

R&R Express Logistics - Boston