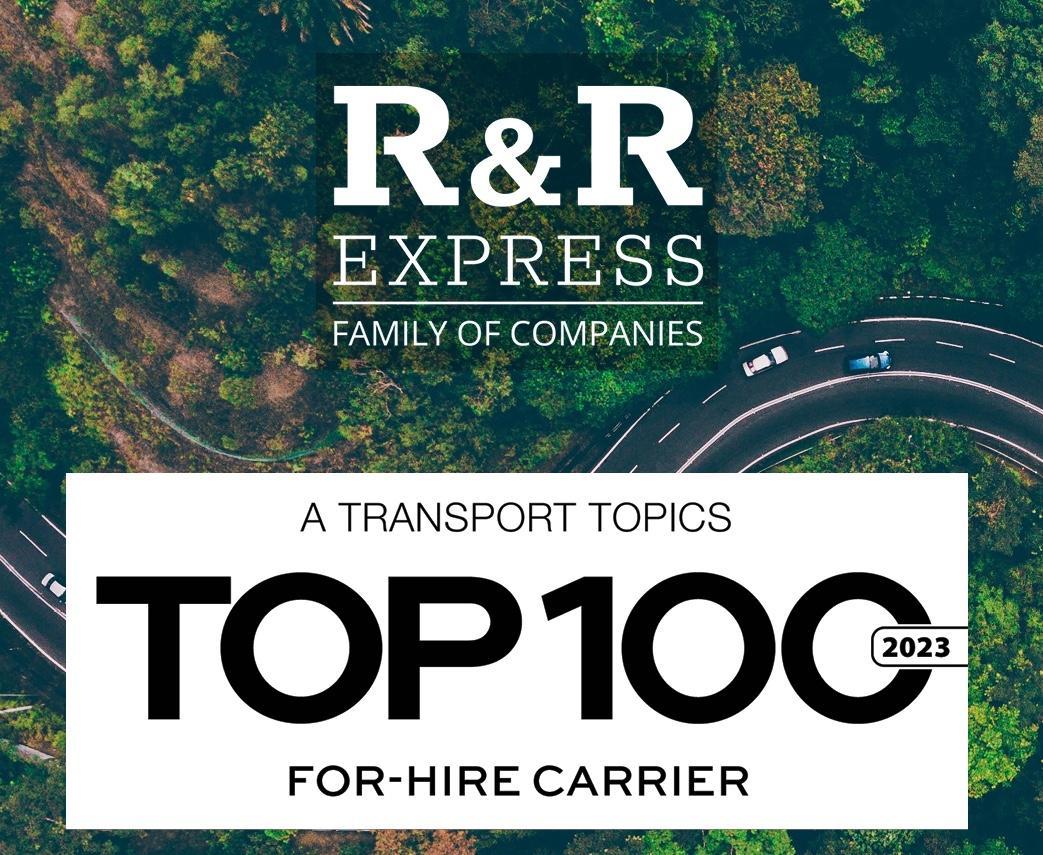 The R&R Express Family of Companies is Named a Top For-Hire Carrier
2023-07-11 09:52 AM
---
Transport Topics released its annual Top 100 list of the largest for-hire carriers in North America for 2023. The R&R Express Family of Companies is proud to be featured on the list — seven places above our ranking last year. Our growth in the rankings mirrors our company's growth in the for-hire carrier market, which we can attribute to our strategic decision to expand our Family of Companies.

We are immensely proud of our climb on Transport Topics' prestigious list. This accomplishment is a result of our team's hard work, commitment, and focus on providing best-in-class customer service. We remain dedicated to driving innovation, expanding our capabilities, and maintaining our position as a leading for-hire carrier.

—Richard S. Francis, CEO of R&R Express

Growing the R&R Express Family of Companies
Part of our focus this past year was to add assets to our organization to support our customers and the many modes we are now serving.
The addition of Taylor Transportation, Load to Ride, and other brands to the R&R Express Family of Companies has equipped us with a bigger and better fleet to support shippers.
Additionally, physical assets aren't all we've gained from these recent additions. We are thrilled to expand our teams with experienced personnel who have the proper training and experience to position our shippers for success.
We are also always strengthening and expanding our network of third-party carriers. The reach of our multiple carrier partners allows us to serve our existing customers with confidence while welcoming new customers with ease and endless capacity.
So What Makes an Ideal For-Hire Carrier?
Since we're celebrating our placement on a list of top for-hire carriers, let's take a closer look at the attributes that make a company a top player in the transportation industry.
Streamlined Project Management: A strong logistics team is the cornerstone of any successful for-hire carrier. We take care of every aspect of logistical planning, from transportation and freight forwarding to warehousing and distribution.
Multimodal Expertise: Shippers and their freight are versatile, so it's important to be able to match customer needs with the right equipment and experienced drivers. The R&R Express Family of Companies provides the technology, expertise, and the best personnel in the industry to move hundreds of thousands of shipments each year safely throughout North America and beyond. Our team has the experience to handle even the most challenging loads.
Team Collaboration: When a shipper hires a carrier, they should become part of that shipper's team and provide regular communication. We work closely with your team to understand your unique project requirements and develop a customized logistics plan. By collaborating with our in-house team and external partners, we ensure that every aspect of your logistics solution is executed seamlessly.
Assets to Support Demand: The dedicated fleets of for-hire carriers are built to support shippers without access to their own equipment. Over the past few years at R&R Express, we have worked to expand and diversify our fleet to meet our customers' unique shipping needs. We are able to support shippers in need of reefers, step decks, conestogas, dry vans, full truckloads, partial truckloads, etc. Whatever your shipping needs, we can meet them with the right equipment to haul your freight.
Growth as a for-hire carrier involves diligence and focus across many areas of the company — all focused on providing a better experience for shippers. Our team prioritizes customer service and uses state-of-the-art solutions for improved customer experiences as we grow. We continue to make iterative operational changes to help improve efficiency and communication, and ultimately strengthen our relationships with customers.
We're proud to have moved up seven positions in the rankings from 2022 to 2023, now ranking 54th in the lineup of top for-hire carriers in North America. R&R Express also placed 32nd for Top Freight Brokerage Firms. Learn more at Transport Topics.