The XEL FOUNDATION Celebrates Surpassing $1M in Donations
08-18-2023
The XEL FOUNDATION is proud to announce a significant achievement – surpassing the milestone of $1 million in donations.
Dedicated to improving the well-being of individuals impacted by autism through pioneering research and promoting inclusion, The XEL FOUNDATION, a 501(c)(3) organization, is supported by the R&R Express Family of Companies.
The foundation was established in November of 2021 when the R&R Express Family of Companies' CEO, Richard S. Francis, and his wife Kathie, gifted $100,000 to form a foundation to honor their grandson who has autism.
That year the rate of autism was 1 in 54. (Unfortunately, that rate has substantially increased since 2021.) Francis asked the employees at the R&R Express Family of Companies to consider donating $.54 for every load of goods moved by the R&R Express Family of Companies, which R&R would match, for a total of $1.08 per truckload moved. The team agreed it was a worthy cause. Thanks to those generous donations, along with donations from other personal, corporate and in-kind donors, The XEL FOUNDATION has reached the $1 million milestone.
The funds have the potential to change the lives of those with autism through groundbreaking research and robust inclusion efforts with community partners. The XEL FOUNDATION has committed to partner with the Autism Discovery & Treatment Fund, headed by Dr. Richard Frye, MD, PhD, FAAP, FAAN, CPI. The board has agreed to fund a hand-selected, progressive research project over a 5-year period, totaling $1,000,000 towards autism research.
The XEL FOUNDATION also established a partnership with KultureCity and funded a Sensory Activation Vehicle, which has been traveling across the nation to provide inclusive opportunities for neurodiverse individuals. From Bonaroo in Tennessee, to the World's Strongest Man competition in South Carolina, to Super Bowl LVII in Phoenix, the S.A.V.E offers a mobile sensory experience to any event that lacks a physical space for a dedicated sensory room.
"We are thrilled to celebrate this incredible milestone of surpassing $1 million in donations," said Elisa Krakowski, President of The XEL FOUNDATION. "Thank you to all who have supported The XEL FOUNDATION. As we move forward, we remain focused on further improving the lives of those with autism by funding research and inclusion."
To contribute to The XEL FOUNDATION, please visit xelfoundation.org.
ABOUT THE XEL FOUNDATION
The XEL FOUNDATION advocates for inclusion of individuals with autism spectrum disorder and for research to end the increasing rates of autism. The non-profit 501(c)(3) organization focuses on a careful selection of funding, partnerships, and initiatives to achieve these goals. It is supported by the R&R Express Family of Companies and their advocacy of "Powered by Purpose," in which employees donate $.54 a truckload to be matched by the company. The organization also accepts individual and corporate donations as well as in-kind and volunteer contributions. Since its founding in 2021, The XEL FOUNDATION has raised over $1 million. Learn more about The XEL FOUNDATION by visiting XELFoundation.org.
CONTACT INFORMATION
The XEL FOUNDATION
Elisa Krakowski, President
elisa@xelfoundation.org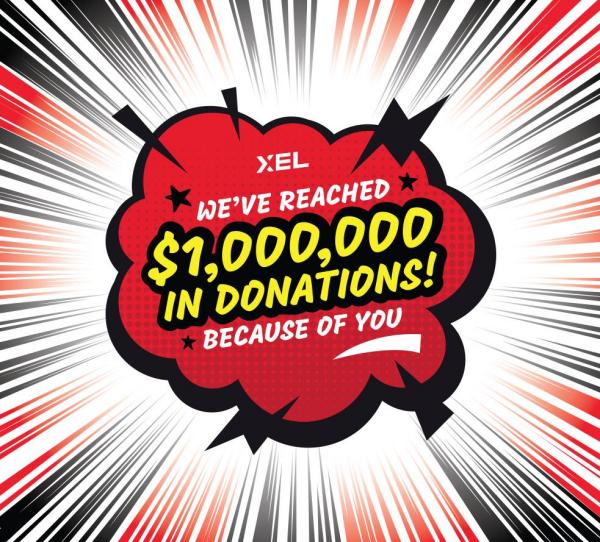 ---
About R&R Express
R&R Express is an asset-based company with a global network of partnerships. We are proud to offer a full array of logistics and supply chain solutions, including freight brokerage, managed transportation, expedited, project logistics and supply chain management, as well as a variety of shipping modes that include truckload, LTL, heavy haul/specialized and more.
Media Contact:
Elisa Krakowski
Director, Marketing
R&R Express
100 Commerce Drive
Pittsburgh, PA 15275
elisak@shiprrexp.com
1-800-223-8973