R&R Express Ranks #54 on the 2023 Transport Topics "Top 100 For-Hire Carriers" List
06-29-2023
Transport Topics released its annual Top 100 list of the largest for-hire carriers in North America based on overall revenue generated in the last 12 months. R&R Express ranks #54 among all for-hire carriers competing in this market, an impressive jump from last year's #61 ranking.
"The 2023 Transport Topics 'Top 100 For-Hire Carriers' publication offers an in-depth look at the largest trucking companies in North America and the key issues they are facing," said Seth Clevenger, Transport Topics' managing editor of features. "Most large for-hire carriers were able to grow their businesses last year despite softer freight market conditions that have continued through the first half of 2023. The updated Top 100 list illustrates how this shifting freight environment and further consolidation have altered the competitive landscape in trucking."
Importantly, the article reports that R&R Express has experienced significant growth since 2021. Part of our focus this past year was to add assets to our organization to fully support our customers and the many modes we are now serving.
"We are immensely proud of our climb on Transport Topics' prestigious list," says Richard S. Francis, CEO of R&R Express. "This accomplishment is a result of our team's hard work, commitment, and focus on providing best-in-class customer service. We remain dedicated to driving innovation, expanding our capabilities, and maintaining our position as a leading for-hire carrier."
As R&R Express continues to grow and thrive, the team prioritizes customer service and uses state-of-the-art solutions for improved customer experiences. Iterative operational changes help improve efficiency and communication, resulting in strong and lasting relationships with customers for unparalleled transportation services.
To learn more about the 2023 Transport Topics "Top 100 For-Hire Carriers" list and to access the full rankings, go to https://www.ttnews.com/for-hire/rankings/2023.
More About R&R Express
For over 40 years, R&R Express has provided efficient, multi-mode solutions to meet every customer's complex transportation needs with integrity. The R&R Express Family of Companies provides the technology, expertise, and the best personnel in the industry to move hundreds of thousands of shipments each year safely throughout North America and beyond.
For more information about R&R Express, visit https://www.shiprrexp.com.
Media Contact:
marketing@shiprrexp.com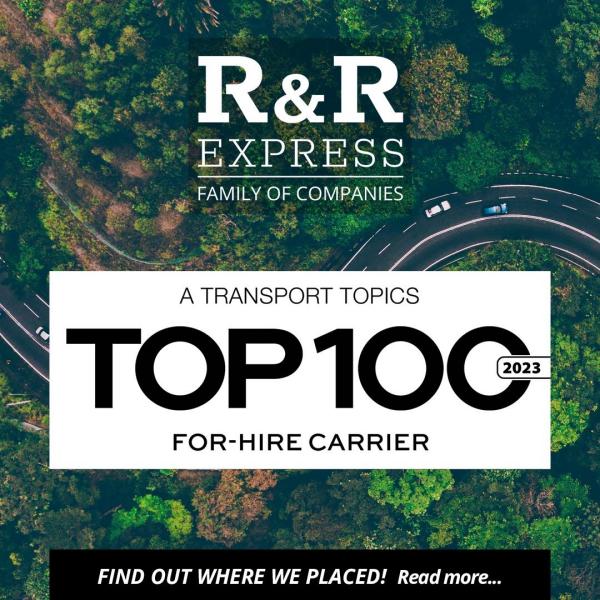 ---
About R&R Express
R&R Express is an asset-based company with a global network of partnerships. We are proud to offer a full array of logistics and supply chain solutions, including freight brokerage, managed transportation, expedited, project logistics and supply chain management, as well as a variety of shipping modes that include truckload, LTL, heavy haul/specialized and more.
Media Contact:
Elisa Krakowski
Director, Marketing
R&R Express
100 Commerce Drive
Pittsburgh, PA 15275
elisak@shiprrexp.com
1-800-223-8973