The XEL FOUNDATION Opens a Sensory Room at Penn State University's Beaver Stadium
09-29-2023
University Park, Pennsylvania, September 28th, 2023: The XEL FOUNDATION- Powered by the R&R Family of Companies, in partnership with KultureCity, is excited to announce the opening of a sensory room at Penn State University's Beaver Stadium. Located behind section SF on level 3, the sensory room is thoughtfully designed to provide a calming and accommodating space for Beaver Stadium attendees. This will especially help individuals with sensory needs and invisible disabilities like autism, dementia, Down Syndrome, and PTSD just to name a few. Access to the sensory room is free.
The room minimizes sensory stimuli, providing a safe space that can be utilized when needed during an event. Sensory bags are also available, which are equipped with noise-canceling headphones, fidget tools, sunglasses, and a communication card. These items are carefully selected to assist individuals in managing sensory input and creating a more enjoyable experience. Beaver Stadium is the 2nd largest stadium in the United States and has a massive capacity of 106,572. This project represents a significant step in making large events around the globe more inclusive and accessible. Penn State will be the first Big Ten university that is Sensory Inclusive™ Certified.
The ribbon cutting ceremony for the sensory room took place before the Penn State vs. Iowa game on Saturday, September 23, 2023. Ceremony officials included Adam Miller- Deputy Athletic Director of Penn State Athletics, Rick Janac- Assistant AD for Major Gifts at Penn State, Uma Srivastava- Executive Director of KultureCity, Richard S. Francis- CEO of R&R Family of Companies and his wife Kathie Francis- XEL Board Member, along with Board Members John Krakowski and Kat Prosperi, and President of The XEL FOUNDATION- Elisa Krakowski.
Elisa Krakowski, Penn State Alumni, shared her vision for the project saying, "One in six individuals have a sensory need. This sensory room promotes inclusion and ensures everyone has the chance to participate in and enjoy events at Beaver Stadium. At The XEL FOUNDATION we believe and know that inclusion at large stadiums like the one at Penn State, simply provide an opportunity for those that might not have been able to attend events like this in the past."
As the 2023 college football season kicks into high gear, the addition of the sensory room at Beaver Stadium will make event experiences accessible for countless fans.
To find out more about The XEL FOUNDATION mission of inclusion and KultureCity, visit https://www.xelfoundation.org or https://www.kulturecity.org.
Resource: View a stadium map here (The sensory room is located behind section SF on level 3).
ABOUT THE XEL FOUNDATION
The XEL FOUNDATION advocates for inclusion of individuals with autism spectrum disorder and for research to end the increasing rates of autism. The non-profit 501(c)(3) organization focuses on a careful selection of funding, partnerships, and initiatives to achieve these goals. It is supported by the R&R Family of Companies and their advocacy of "Powered by Purpose," in which employees donate $.54 a truckload to be matched by the company. The organization also accepts individual and corporate donations as well as in-kind and volunteer contributions. Since its founding in 2021, The XEL FOUNDATION has raised over $1 million. Learn more about The XEL FOUNDATION by visiting XELFoundation.org.
CONTACT INFORMATION
The XEL FOUNDATION
Contact: Elisa Krakowski
Email: elisa@XELFoundation.org
Website: XELFoundation.org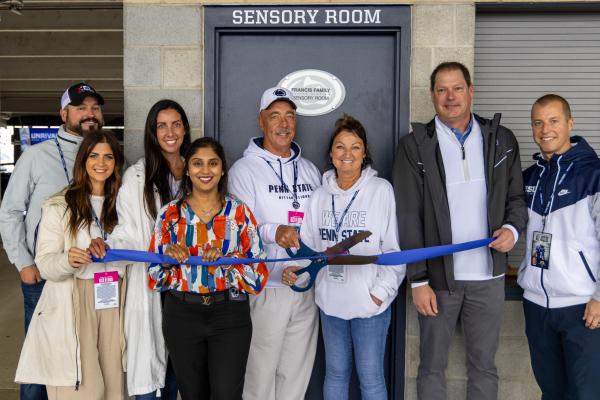 ---
About the R&R Family of Companies
The R&R Family of Companies is an asset-based company with a global network of partnerships. We are proud to offer a full array of logistics and supply chain solutions, including freight brokerage, managed transportation, expedited, project logistics and supply chain management, as well as a variety of shipping modes that include truckload, LTL, heavy haul/specialized and more.
Media Contact:
Elisa Krakowski
Director, Marketing
R&R Family of Companies
100 Commerce Drive
Pittsburgh, PA 15275
elisak@shiprrexp.com
1-800-223-8973