R&R Express Named a "Top 100 Freight Brokerage Firm in North America"
06-22-2023
The R&R Express Family of Companies is proud to announce R&R Express has ranked in Transport Topics' 2023 "Top 100 Freight Brokerage Firms in North America." R&R Express has impressively earned the 32nd best freight brokerage firm in North America.
According to Transport Topics, "Companies are ranked based on gross revenue and include a description of the type of freight handled and, if available, the number of loads or shipments for the latest 12-month period."
We are extremely proud that out of thousands of freight brokerage companies in North America, we have made this prestigious list. Being included in the top 50 ranking is attributed to our team prioritizing customer service and technology-driven efficiency.
To see the complete list of Transport Topics' "Top 100 Freight Brokerage Firms in North America," go to https://www.ttnews.com/logistics/freightbrokerage/2023.
More About R&R Express
For over 40 years, R&R Express has provided efficient, multi-mode solutions to meet every customer's complex transportation needs with integrity. The R&R Express Family of Companies provides the technology, expertise, and the best personnel in the industry to move hundreds of thousands of shipments each year safely throughout North America and beyond.
For more information about R&R Express, visit https://www.shiprrexp.com.
Media Contact:
marketing@shiprrexp.com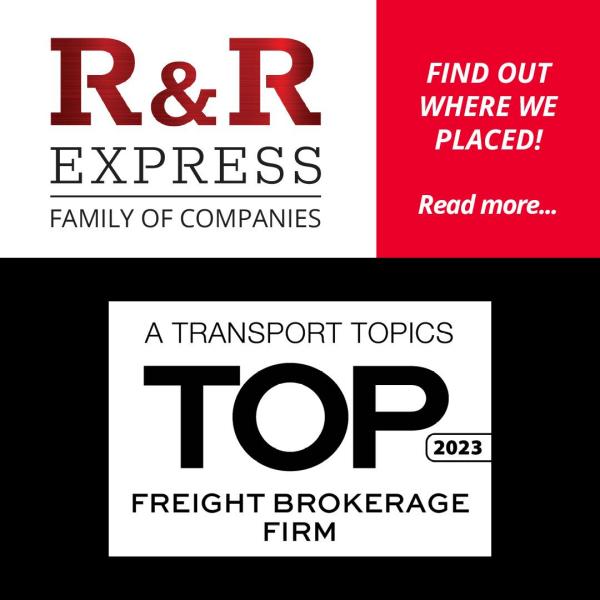 ---
About R&R Express
R&R Express is an asset-based company with a global network of partnerships. We are proud to offer a full array of logistics and supply chain solutions, including freight brokerage, managed transportation, expedited, project logistics and supply chain management, as well as a variety of shipping modes that include truckload, LTL, heavy haul/specialized and more.
Media Contact:
Elisa Krakowski
Director, Marketing
R&R Express
100 Commerce Drive
Pittsburgh, PA 15275
elisak@shiprrexp.com
1-800-223-8973