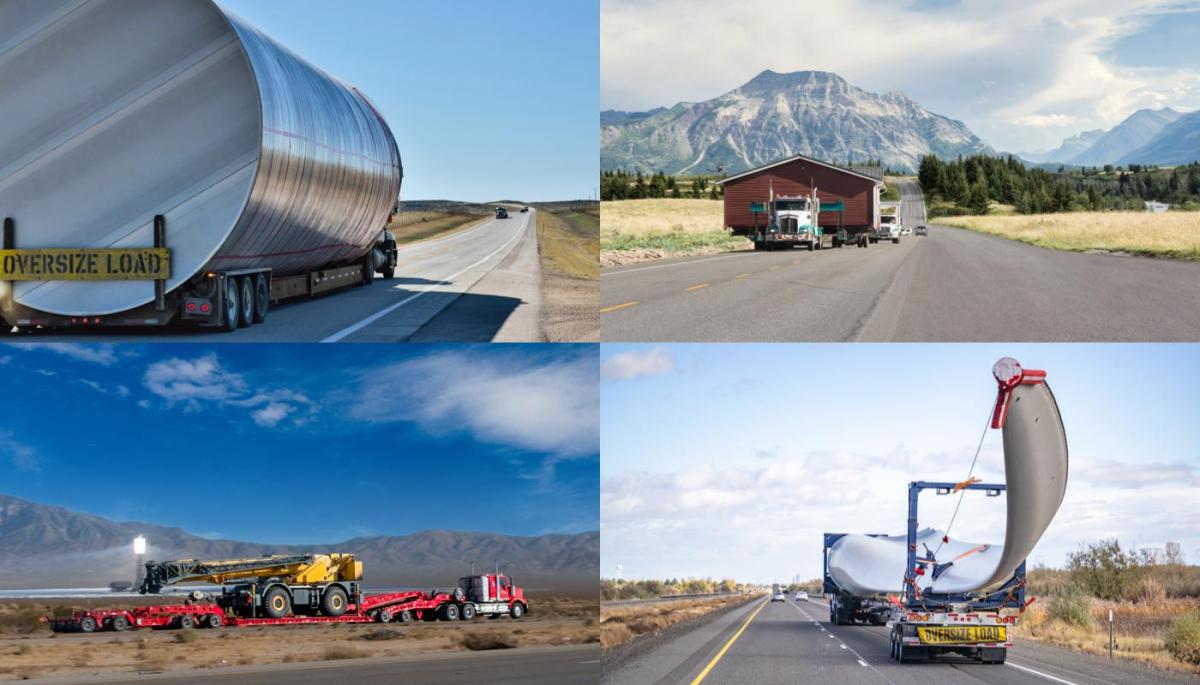 Six Considerations When Searching for the Right Heavy Haul Partner
2023-10-03 05:57 PM
---
Finding the right freight and logistics partner for your heavy haul and over-dimensional shipments can be challenging, but is key to optimizing your shipping operations and growing your business. Whether you're a veteran heavy haul shipper or you're just getting started, partnering with a specialized heavy haul company will give you access to the knowledge and expertise that comes with years of coordinating complicated logistical situations. In turn, it'll relieve you of some very time-consuming and complex responsibilities.
Below we explore six considerations that you should make when reaching out to various companies for freight quotes — and how the R&R Family of Companies handles each of these aspects of a heavy haul operation.
1. Planning and Logistics Expertise
The process of getting your heavy haul or over-dimensional freight from point A to point B is more complicated than a typical shipment. There's a lot of up-front planning involved in setting the shipment up for success that only experienced logistics coordinators can handle with ease.
Two important aspects of planning heavy haul transport include routing optimization and budgeting. The goal of routing optimization is to select the route that best fits your needs as a shipper. Are you more concerned with meeting a deadline or keeping shipping costs low? There are typically multiple routes available to get your freight to its destination, and it's up to the logistics coordinators to determine which one will help you meet your goals.
Which route requires the least amount of permits? Which route has restrictions or limitations for over-dimensional freight? Which route is the shortest? Which route is the least congested with traffic? An experienced coordinator can provide answers to all of these questions.
2. Adherence to Local and State Regulations
The Federal government does not issue permits or regulations for heavy haul or over-dimensional shipments. Instead, each state maintains its own set of regulations and restrictions, and they are not as straightforward as you may think. For example, states have separate fee structures for overweight versus over-dimensional freight. Additionally, permits are only valid for a specific number of days, so you must consider timing when submitting applications.
Partnering with a specialized heavy haul transportation company such as those within the R&R Family of Companies ensures that you're paired with a knowledgeable logistics coordinator who is aware of the regulations in the areas where your freight will be traveling. Our coordinators take those regulations into consideration when determining the fastest and most cost-effective route for your shipment.
3. Connections with Permit Offices
Obtaining the right permits can be a time-consuming and confusing process that is best handled by experts who do this as their job every day. After decades of service in the heavy haul space, our logistics coordinators within the R&R Family of Companies have an efficient process for determining what permits are needed, calculating permit costs, contacting the right offices, and obtaining the permits within the necessary timeframe.
4. Commitment to Safety
All brands within the R&R Family of Companies maintain stringent safety standards to keep drivers, civilians and your freight safe and secure. But safety is perhaps the most important for heavy haul or over-dimensional transport because of the sheer magnitude of these types of shipments (think large construction equipment/machinery, long steel pipes and prefabricated housing, just to name a few examples).
Selecting from our pool of experienced operators and pairing your freight with the right trailer are two of the most important steps in ensuring a safe trip. And this is all part of what our team handles for you as the shipper. We collect your freight dimensions and weight and then determine if a gooseneck, drop deck, step deck, conestoga or stretch trailer is needed.
We also follow all heavy haul best practices, such as utilizing pilot cars and escorts for increased visibility and assistance on the road. And we coordinate these elements of the trip on your behalf while keeping your budget and time restraints in mind.
5. Insurance Coverage Options
Minimizing risk for all parties involved should be a top priority for any reputable freight and logistics company. While you as the shipper are not required to obtain insurance for your freight, it's a smart business practice to do so, and any heavy haul transportation company that values your success will encourage you to do so as well.
Within the R&R Family of Companies, we present our customers with various levels of insurance premiums based on the value and nature of goods in question. We also maintain our own insurance policies to help protect all parties in the event of an accident.
6. Reputation in the Industry
The final consideration is perhaps one of the most important. When selecting the right heavy haul partner, you should take the time to look into the company's reputation and reviews within the industry. Are other shippers satisfied with their service? Have they shipped freight like yours before? Are they in good standing as a company? These are questions that you shouldn't be afraid to ask.
The R&R Family of Companies has been successful in transporting a wide variety of heavy haul and over-dimensional loads. In fact, we move hundreds of thousands of shipments per year. Ask us about our capabilities and track record!
Partner with the R&R Family of Companies for All of Your Heavy Haul Needs
As this article has explored, there are a number of important factors that go into successful heavy haul transportation. Our experts within the R&R Family of Companies take all of those things into consideration and handle them completely so you have peace of mind. Ship with the R&R Family of Companies today!