Recognizing R&R Express' Safety Standards and Loretta Payonk
02-08-2023
R&R Express' Dedication to Safety
R&R Express' top priority is maintaining the highest level of safety in the transportation and logistics industry. In fact, they have a dedicated, centrally located facility solely for that purpose. Commercial motor vehicle safety and laws are essential and ever-changing, and R&R Express strives every day to operate responsibly and lawfully to help ensure public safety on the roads.
R&R Express is proud of the investment made in their safety department and in the strict standards maintained by qualifying drivers, owner-operators, and partner carriers. The service provided to their customers begins with a fleet of well-maintained equipment on the road paired with healthy and well-trained drivers behind the wheel of company-owned vehicles.
Loretta Payonk — Essential to R&R Express' Success
Loretta Payonk has made a significant impact on R&R Express since she was hired in 2010. She has been very effective as the Certified Safety Director for The R&R Express Family of Companies. As R&R Express continues to grow, she has held the important job of onboarding newly acquired companies and setting the standards along with practices and procedures, depending on the organization's fleets and their needs.
Loretta managed twenty-seven employees with the assistance of four managers and three supervisors. During her tenure at R&R Express, she has accomplished finalizing their driver training program, which can take a driver from moving van freight, to flatbed freight, to over-dimensional, to wind energy.
"Loretta is essential to R&R Express' excellence," says R&R Express CEO, Rich Francis. "We are proud to recognize her achievements and dedication to making a difference in both our company and the trucking industry."

About R&R Express
For over 30 years, R&R Express has been the best in class in the logistics industry and in providing efficient, multi-mode solutions to meet customers' complex transportation requirements while maintaining an honest relationship. R&R Express' capabilities are enhanced by a proprietary suite of systems and technologies that provide centralized visibility and control of customer loads. This is all accomplished by R&R Express' One Family of companies, which moves hundreds of thousands of shipments each year using a combination of truck assets and contracted carriers.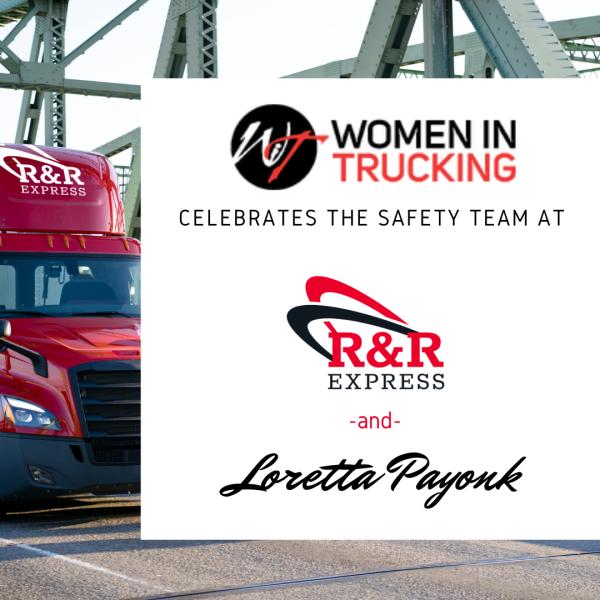 ---
About R&R Express
R&R Express is an asset-based company with a global network of partnerships. We are proud to offer a full array of logistics and supply chain solutions, including freight brokerage, managed transportation, expedited, project logistics and supply chain management, as well as a variety of shipping modes that include truckload, LTL, heavy haul/specialized and more.
Media Contact:
Elisa Krakowski
Director, Marketing
R&R Express
100 Commerce Drive
Pittsburgh, PA 15275
elisak@shiprrexp.com
1-800-223-8973