R&R Express Expands Operations with New Office in Fort Wayne
09-21-2023
R&R Express, a leading logistics and transportation solutions provider, is proud to announce the opening of its new office in Fort Wayne, Indiana. This strategic expansion enhances R&R Express' nationwide presence while making it possible to provide more efficient services to clients in the Midwest.
The decision to establish an office in Fort Wayne was driven by several key factors, including its prime location. The office is conveniently located off I-69, which dissects Fort Wayne and is adjacent to the loop connecting the city to other highways and neighborhoods via I-469. This central location ensures that R&R Express can reach any point within the city within fifteen to twenty minutes, optimizing efficiency and responsiveness to customers' needs. Additionally, the availability of warehouse space near the office provides an opportunity for future expansion into additional services.
Fort Wayne, often referred to as "The Crossroads of America," was a natural choice for R&R Express. The city's strategic positioning within a few hours' drive of major metropolitan areas, including Chicago, Detroit, Cleveland, Cincinnati, and Indianapolis, gives R&R Express a competitive edge in serving clients across the Midwest. Fort Wayne also has a low cost of living, making it an ideal location for attracting new hires.
This expansion aligns with R&R Express' growth strategy, which emphasizes hiring highly experienced professionals and building a robust team, office, and community presence around them. Leveraging the strategic advantages of satellite offices across the country enables R&R Express to accelerate its growth while maintaining its high standards of customer support.
"As we expand our presence into Fort Wayne, we are excited about the potential for growth and the opportunity to provide even greater logistics solutions to our valued clients," says Richard Francis, CEO of R&R Express. "We look forward to being an integral part of the Fort Wayne community and contributing to its economic development."
R&R Express is excited about the opportunities this expansion into Fort Wayne presents. The company looks forward to continuing to provide technology-driven logistics solutions while contributing to the growth of the Fort Wayne community.
More About R&R Express
For over 40 years, R&R Express has provided efficient, multi-mode solutions to meet every customer's complex transportation needs with integrity. R&R Express provides the technology, expertise, and the best personnel in the industry to move hundreds of thousands of shipments each year safely throughout North America and beyond.
For more information about R&R Express, visit shiprrlogistics.com.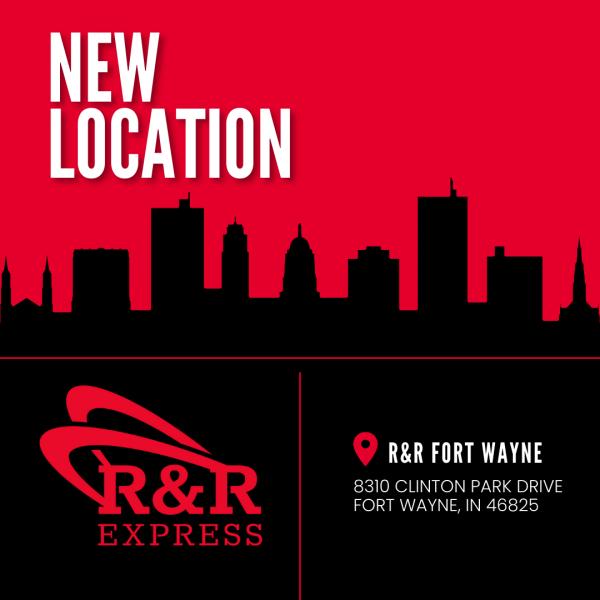 ---
About the R&R Family of Companies
The R&R Family of Companies is an asset-based company with a global network of partnerships. We are proud to offer a full array of logistics and supply chain solutions, including freight brokerage, managed transportation, expedited, project logistics and supply chain management, as well as a variety of shipping modes that include truckload, LTL, heavy haul/specialized and more.
Media Contact:
Elisa Krakowski
Director, Marketing
R&R Family of Companies
100 Commerce Drive
Pittsburgh, PA 15275
elisak@shiprrexp.com
1-800-223-8973