R&R Express Acquires Taylor Transportation, a Leading Carrier for the Automotive Industry
05-22-2023
The R&R Express Family of Companies is proud to announce the acquisition of Taylor Transportation. Taylor Transportation is a leading carrier for the tire industry, the auto industry, and many others, providing dedicated service on critical finished goods shipments for world-class customers throughout the continental United States.
Taylor was founded in 1987 and has grown steadily since then. The acquisition includes Taylor's 85 late-model (2021– 2023) Peterbilt tractors and more than 200 trailers. Taylor's unique central locations, less than one mile off of I-95 in Hope Mills, North Carolina, and in Union City, Tennessee, will help R&R Express continue providing excellent maintenance to their expanding fleet in the R&R Family of Companies throughout the U.S. and help their fleets reach more locations faster than ever before.
Taylor's executive leaders bring more than 75 years of experience to the R&R team. Their leadership has helped the company retain transportation's highest customer service and safety standards on the roads. The addition of Taylor's 104 dedicated and experienced employees, including 88 drivers, will help R&R become more efficient and provide faster shipping times while maintaining R&R's world-class customer support.
"We are excited to welcome Taylor to R&R Express' Family of Companies," says Richard S. Francis, R&R Express CEO. "Taylor's fleet of new tractors and trailers along with their two service facilities, leaders, and their team will help R&R become even more efficient and continue to provide our customers with best-in-class customer service."
More About R&R Express
For over 40 years, R&R Express has provided efficient, multi-mode solutions to meet every customer's complex transportation needs with integrity. The R&R Express Family of Companies provides the technology, expertise, and the best personnel in the industry to move hundreds of thousands of shipments each year safely throughout North America and beyond.
For more information about R&R Express, visit https://www.shiprrexp.com.
Media Contact:
marketing@shiprrexp.com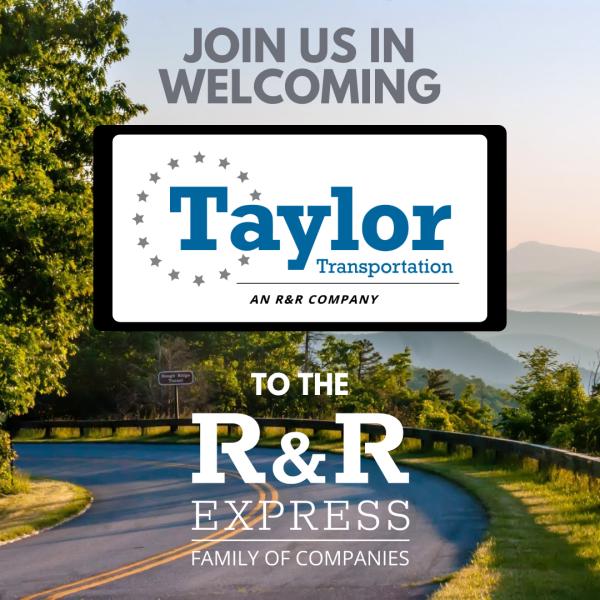 ---
About the R&R Family of Companies
The R&R Family of Companies is an asset-based company with a global network of partnerships. We are proud to offer a full array of logistics and supply chain solutions, including freight brokerage, managed transportation, expedited, project logistics and supply chain management, as well as a variety of shipping modes that include truckload, LTL, heavy haul/specialized and more.
Media Contact:
Elisa Krakowski
Director, Marketing
R&R Family of Companies
100 Commerce Drive
Pittsburgh, PA 15275
elisak@shiprrexp.com
1-800-223-8973